A Forty-Hour Course at The Reed Research Reactor
Radiation Safety Officer Training
Next Class: June 6th to 10th, 2022
We are planning on holding this year's class in-person at Reed College. The in-person class costs $1500. Digital copies of all the materials will be provided for free. The course may go online if the COVID-19 pandemic situation gets worse in Oregon. 
---
Reed College Reactor has been offering this class every year since 1996.
Course Goal
This course is designed to provide the technical and practical knowledge to prepare someone to be a Radiation Safety Officer (RSO). While documentation and regulation are covered, the emphasis is on the practical skills necessary to properly perform the duties of RSO. The course concludes with a final exam.
This course is designed to meet the 40 hour requirements of 10CFR33.15(b)(2).

Some classes are math based, and a scientific calculator is strongly recommended.
All students receive an electronic copy of the lecture notes, and links to free, online versions of the chart of the nuclides and a scientific calculator. It is strongly encouraged that students buy their own phsyical copy of the chart of the nuclides.
Google Drive will be used to access all course materials in the online course. Zoom will be used for the virtual lectures. A gmail account will be required to access the Google Drive, and a Zoom account will be required due to Reed's security settings.
Course Content
Tentative RSO Course Schedule: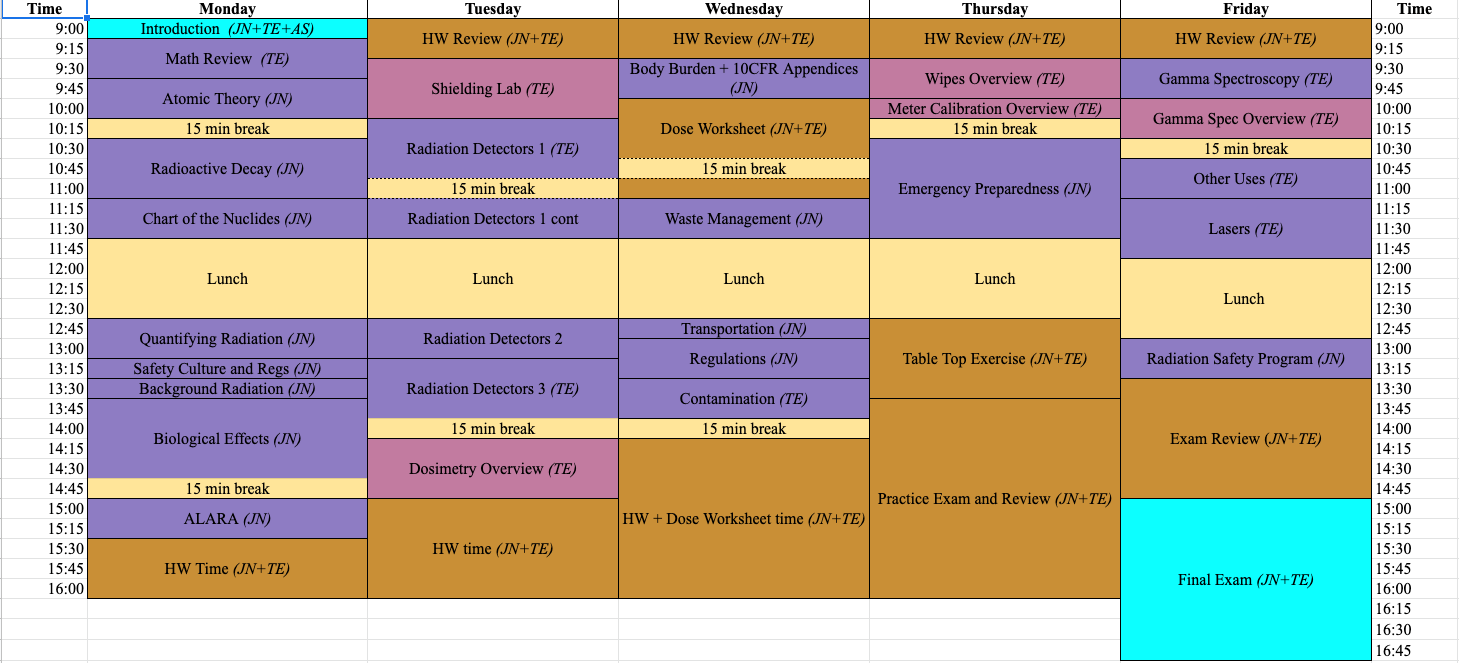 The course lasts 1 week, Monday to Friday.
Each day runs from 9:00 AM to 5:00 PM.
Who Should Attend?
Radiation Safety Officers, Assistant Radiation Safety Officers, and others who work with radioactive materials
Course Materials
Provided:
Electronic course manual
Lecture slides and recorded lectures
Videos of hands-on labs
Course Certificate (upon passing the final exam)
Registration
You are invited to register using the RSO Course Registration Form. 
Registration Fee (includes electronic course materials): cost TBD (see top)
Directions and Hotel Information
Directions to Reed College can be found at Getting to Reed.
Information about hotels near Reed College is available at the Admissions Page.